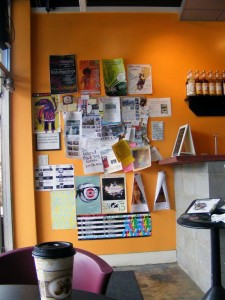 Despite the popularity of WiFi hotspots and social networks, there's still something comforting about seeing a bulletin board covered in notices, business cards and concert posters in a local gathering place. After listening to a lecture by fellow New Yorker (and consultant) Michael Berne about the nuances of the hipster while in Philadelphia, I returned to town determined to figure out some of the more subtle characteristics. One that jumped out at me immediately was their use of the bulletin board as the central gathering place for information, like this one at Crestwood Coffee Company.
The group that has popularized the Hipster PDA shouldn't surprise us with their love for the tactile. I consider myself a borderline hipster – despite my excessive reliance on my laptop to run my life, many of my friends would not necessary be surprised to see a pencil in my hand and a legal pad out as I work out a problem. Hipsters still enjoy the art of creating the flyer or poster. We enjoy the craft and the thought that has to go into it. I cherish a poster that I bought at my first ever Kentuck Festival – it's a hand printed poster for a Man or Astroman? concert at The Bottletree. Despite my love for the nebulous, the historian and packrat in me still loves to hold something in my hand.
Even on The Terminal, whenever we sponsor an event, we still cherish the visual and the tactile even though we never "go to press." We figure that while many would say that it's all about content, we know that one reason that folks visit the site is because of how it looks (and we can't disappoint as a result).
Do you still find yourself looking on the wall for the latest information instead of in the paper or online? Maybe it's the ability to sort through layers of information in much the same way that web workers dig through search results to find what it is that they're looking for. The main difference is that it can provide in a glimpse an idea of the kind of neighborhood it is, the kind of regulars that frequent the establishment, much in the same way that the merchandise or the items on the menu in a way that you will never quite be able to get no matter how hard you try on the computer.
What do you think? Can the bulletin board be a window into a neighborhood even in this modern world? Do you have any examples of a bulletin board that provides us that glimpse?
Let me know.
NOTE: This post was originally written for my personal blog, Dre's Ramblings, in spring of 2008.